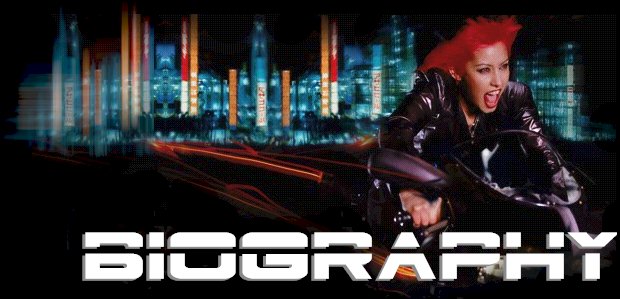 NOTE: This Biography is taken courtesy of Republica's Official Website
Speed Ballads then... The title of Republica's second album is a versatile thing. Speed - as in the heltering rush of celebrity, is something Republica have become very familiar with in the past 2 years. Ever since the epochally exuberant Ready To Go single went overground in America at the tail end 1996, Republica have found themselves at the centre of a tsunami of incident and achievement. Versace, MTV, Dennis Hopper, Conan O'Brien, The Fat Of The Land, Ian Broudie, Hot 100's, Top Of the Pops, top of the world.
Frontwoman Saffron is the perfectly formed latter-day icon with the background in punk rock and 'The Rocky Horror Show'. Keyboardist and songwriter Tim Dorney, the arch technophiliac who once played in gloriously infamous
dance-rock reprobates Flowered Up. Guitarist Jonny Male is the terminally louche guitarist who also writes tunes with St.Etienne. And this trio is very much Republica in its entirety these days.
Born in Nigeria to Portuguese / Chinese parentage and brought up in Britain's South coast, Saffron spent her teen years in the
unlikely middle ground between greasepaint and the grunged-up musical underground. Immersion in acid culture saw her whole-heartedly entering the pop realm - first with an US tour supporting The Shamen and then fronting rave-pop ensemble N-Joi. With a musical mindset that sits between the Sex Pistols and The Chemical Brothers, Saffron was the perfect choice for vocals on the Prodigy's cover of L7's Fuel My Fire on Fat of the Land.
If Saffron is the public face of Republica, her co-conspirators Tim Dorney and Jonny Male are the potent, quietly enigmatic powers in the background. He may have been weaned off his rusks by The Clash and sundry invigorating chemicals, but Tim has an enviable ability to combine chaos and a clear head. So, while his bandmates in Flowered Up were proving they were London's answer to Happy Monday's not only with their groove-guitar interface, but also their exploration of drug culture's moredestructive fringes - Tim was staying relatively together.
Guitar man Jonny lives in Ladbroke Grove and writes pop songs. He has written for Saint Etienne as well as the hugely under-rated Denim. He has had No1 hits with such songs in Australia, although he can't remember the name of the singer that took the tunes there - he thinks she might have been called Diane.

Jonny explains how Republica's new album sees them maintaining their position at the cutting edge of the rock-technology interface.
Recorded in London and produced by Ian Broudie, the venerable Clive Langer and Alan Winstanley, Andy Gray and Ian Stanley (who once wrote hits with Tears For Fears and has recently produced The Aloof), Speed Ballads find the Republica sound going widescreen.:

'The album really sees us building the songwriting in Republica. It was great to work with people like Ian Broudie, people who weren't interested in genres, so much as just taking a song and making it sound brilliant. It's really us coming from what is basically a dance sound and becoming a band. Everyone else is indie-dance. We're dance indie.'... J o n n y M a l e.
The firm techno-rock bite of the first single From Rush Hour With Love finds them consciously building a bridge between their self-titled debut album and Speed Ballads. But beyond that, the new album takes Republica to whole new visas.


Much more song-based than their debut LP, Speed Ballads sees the esteemed production line-up building these songs into hugely ambitious Cinemascope productions. Luxury Cage and Try Everything are immense future-ballads, seemingly purpose-built to set the heart humming with the roof down and the wind in the hair.
Nothing's Feeling New decks out stately anthemics with intimations of millennial ennui: 'Got CNN baby, got ISDN, oh baby...' Everything is useless. Pub Pusher is a pumped-up verite account of drug-world low life, replete with reference to Mortal Kombat II, Haagen-Dazs and early Cure.


Yet if Speed Ballads is about songs and proper instruments made out of wood, it also maintains Republica's position toward technology's cutting edge. Written on actual proper instruments, it was then recorded direct to state-of-the-art digital disc.
At a time when the pure pop impulse is being ignored in favour of brooding impression, it's reassuring to hear Republica haven'tabandoned this noble goal.


S a f f r o n...
'I don't get it when people say "Just a pop band", I think being a brilliant pop band is the highest thing you can aspire to. Pop music is something that's both throwaway and something that changes your life. That's what we want to achieve - disposable brilliance".